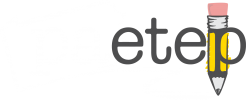 NTPE
Observations
Use NTPE Observations to evaluate Non-teaching Professional Educators. Evaluate and track over 16 NTPE roles, from school nurses to directors. The NTPE Module gives professionals the opportunity to identify focus areas and add supporting evidence and comments to support their specific evaluation focus and role.
Video Tutorial
A comprehensive look at the NTPE Observation module and a demonstration of how it will support the evaluation process for non-teaching professionals, principals, and administrators.
Take the next step and get a private demo of PA-ETEP NTPE Observations for your School District.
Free Demo, Free Training, Free Support. Always.
Schedule a Demo

Pennsylvania's #1 Choice for Evaluation Management

Manage All PDE Compliance Items in One Place Track, Manage, Submit Continuing Education Hours to PERMS

Customize Online Registration for a Seamless Experience