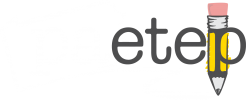 Walkthroughs & Anecdotals
Walkthroughs
The walkthrough module provides a means to organize additional evidence for the evaluation process.  Create short records for unscheduled, classroom sit-ins, and miscellaneous professional activities, administrative notes, and accomplishments.
Anecdotal Notes
The Anecdotal Notes module provides a means to document evidence related to an individual's professionalism. Create notes to record evidence in any of the four Domains.  Document leadership, positive accolades, and any other information related to an educator's professionalism or educational practices.
Take the next step and get a private demo of PA-ETEP Walkthroughs and Anecdotal Notes for your School District.
Free Demo, Free Training, Free Support. Always.
Schedule a Demo

Pennsylvania's #1 Choice for Evaluation Management

Manage All PDE Compliance Items in One Place Track, Manage, Submit Continuing Education Hours to PERMS

Customize Online Registration for a Seamless Experience