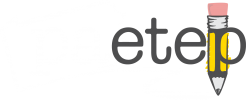 Formal
Observations
PA-ETEP provides principals and supervisors the ability to manage the entire formal observation process from start to finish and includes the following features:
Pre-Observation Questionnaire
Pre-Observation and Post-Observation Conference scheduling
Observation Scripting Tool for time-stamped, real-time observation note-taking
Observation Evidence Editor for observation notes organized by component area
Post-Observation Questionnaire
Full two-way Self-Assessment Rubric compatible with the Danielson Framework
Observation Summary with Growth and Strength tracking.
Unannounced Observations
PA-ETEP supports multiple observation options and gives users the ability to skip various steps along the way, like the pre-observation questionnaire and conference, for a dynamic observation management experience.
Take the next step and get a private demo of PA-ETEP Formal Observations for your School District.
Free Demo, Free Training, Free Support. Always.
Schedule a Demo

Pennsylvania's #1 Choice for Evaluation Management

Manage All PDE Compliance Items in One Place Track, Manage, Submit Continuing Education Hours to PERMS

Customize Online Registration for a Seamless Experience