Easily Track and Manage Compliance Items & Submit Act 48 Hours to PERMS
Comply is an online tool for tracking and managing employee fulfillment of district requisites and state mandates.
Comply can be used to track the completion of state requirements for clearances, fire drills, PIMS, safe drinking water, school safety, confidentiality, child abuse/mandated reporter, and much more. The software also tracks district specific requirements related to acceptable use policies, employee handbooks, bullying prevention, coaching requirements, teacher induction, and whatever else a district needs and wants to track. The submission of Act 48 hours to PERMS is also built right into the software; keeping all of your compliance items in one place. Use Comply in conjunction with PA-ETEP or independently, with your teachers, paraprofessionals, administrative assistants, and all other support personnel. Imagine, one tool, one location, for all your employees to access their requisites, complete them on time, and earn Act 48 hours.
Comply News & Updates
The latest Comply news, updates, and announcements.
Attend a Webinar Demo of Comply
Experience the benefits of Comply for your district!
Hosted by Comply's creators, Dr. Hankinson & Dr. Myers.
Open to all administrators.
Comply allows you to track and manage
all of the following and more: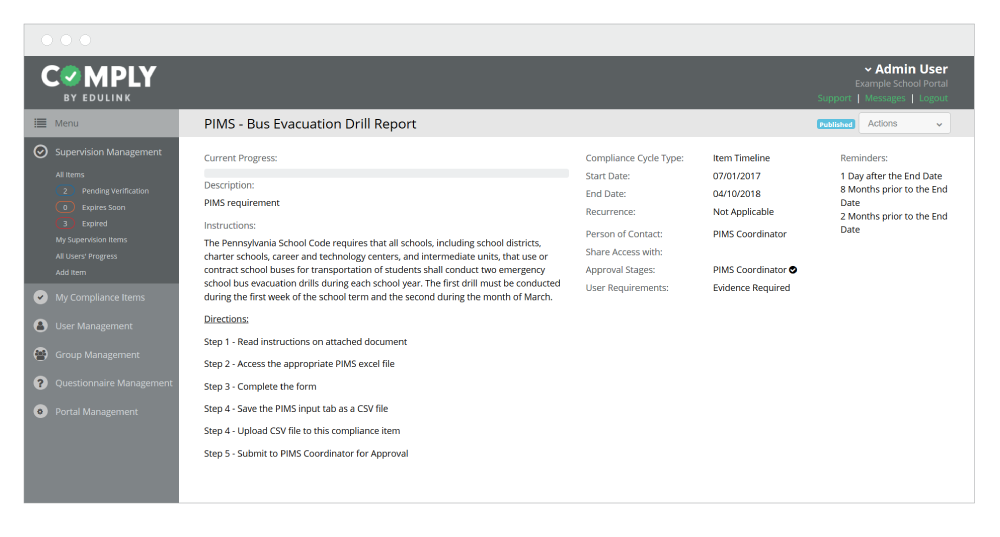 Bus Evacuation Drill Report Example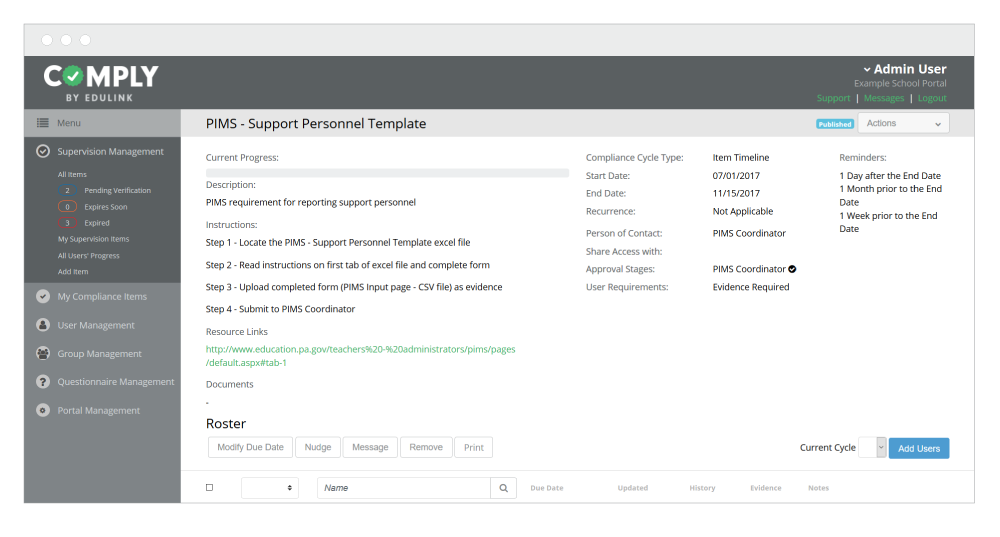 Support Personnel Template Example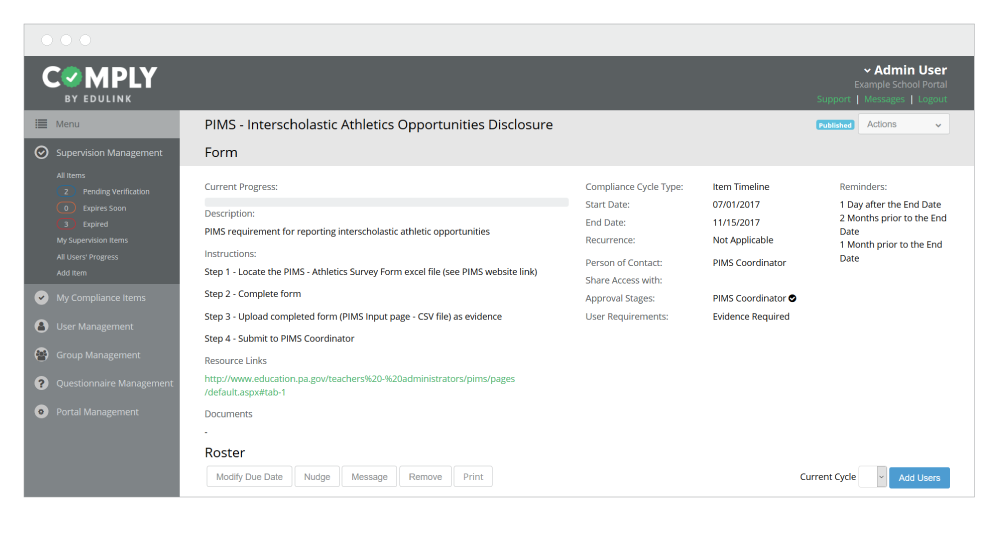 Interscholastic Athletics Opportunities Example
Bus Evacuation Drill Report
Fire Drill Report
Home Education Report
Interscholastic Athletics Opportunities
Disclosure Form
Memorandum of Understanding
with Law Enforcement
Support Personnel Template
Bullying Policy
Board Policies
Acceptable Use Policy
Bullying Prevention
Dating Violence
Coaching Requirements
Employee Handbooks
Credit Approval Requests
New Hire Policies
Requisition Requests
Vendor Contract Renewals
Employee Feedback / Surveys
Professional Development Feedback
School Safety
Curriculum Implementation
District Initiatives
Exit Interviews
Training / PD and Act 48 Submission

Equity and Inclusion  

Bullying Prevention  

Cyber Harassment
Dating Violence  

PSSA / Keystone Administration  

Mandated Reporter (Act 126)  

Suicide Awareness (Act 71)  

Cardiac Arrest (Act 59) 

Child Exploitation Awareness (Act 71)  

Anti-Hazing (Act 31)
Active Shooter Awareness
AED Defibrillator Training
Bloodborne Pathogens
Dealing with Angry People
Employee Substance Abuse Awareness
First Aid Awareness
Drug Abuse Education (HB 121)
And Anything Else that Matters!
Comply Dashboard for Supervisors
Administrators can:
View active compliance items
See compliance items that have expired for individual users
Access compliance items that are pending and require their verification
Nudge users, encouraging them to take action
Message users with important updates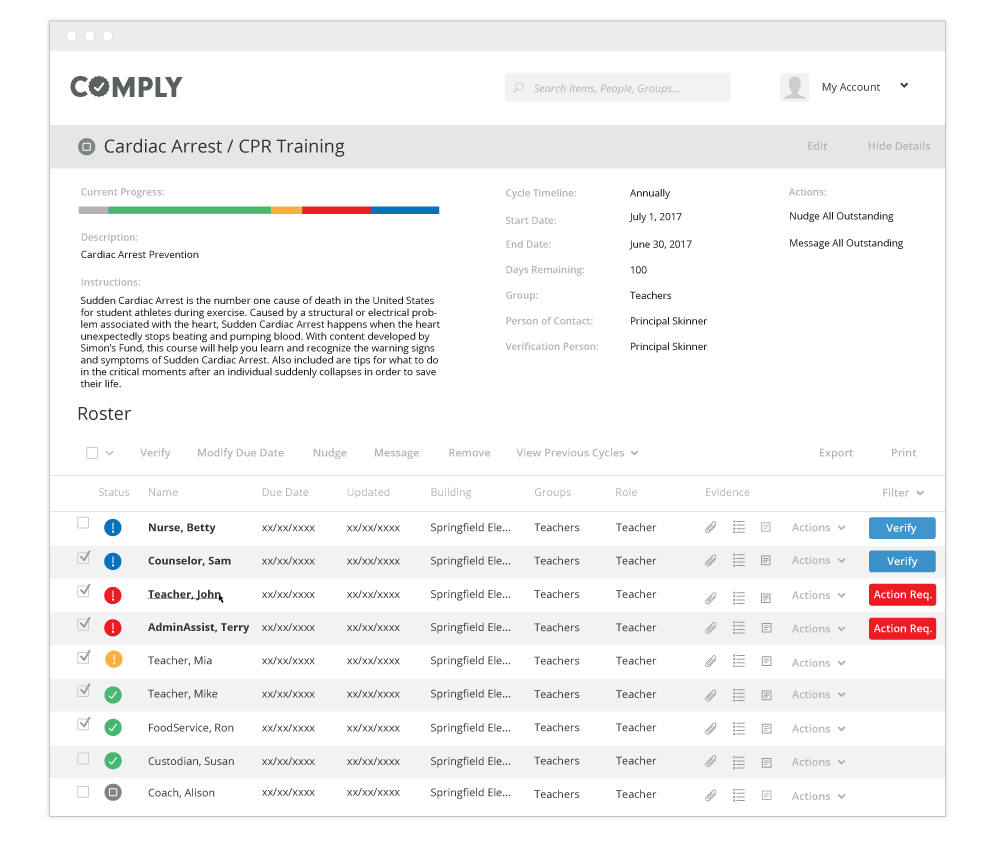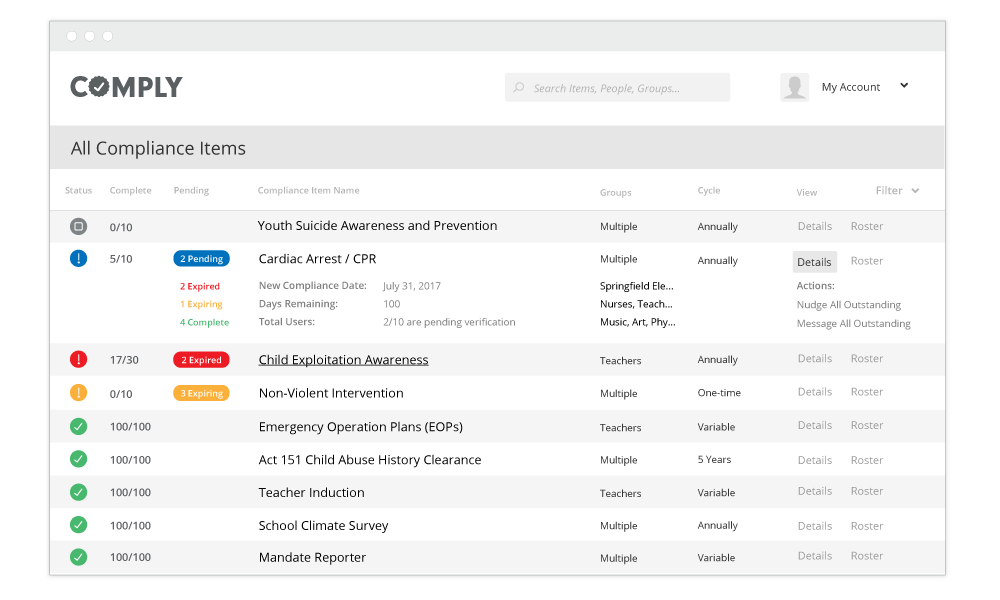 See the status or progress of individual users (completed, pending verification, expiring soon, expired)
Receive automatic updates with status of compliance items
Review uploaded documents
Review completed questionnaires/surveys
Enter user specific notes
Take appropriate actions (verify, nudge, message, etc.)
Schedule a free demo and see how easy it is to track compliance items
Comply Dashboard for Users/Employees
Users or employees can:
View all items for which they are responsible in complying
See compliance items that are expiring soon
Submit compliance items for verification
Message contact person with questions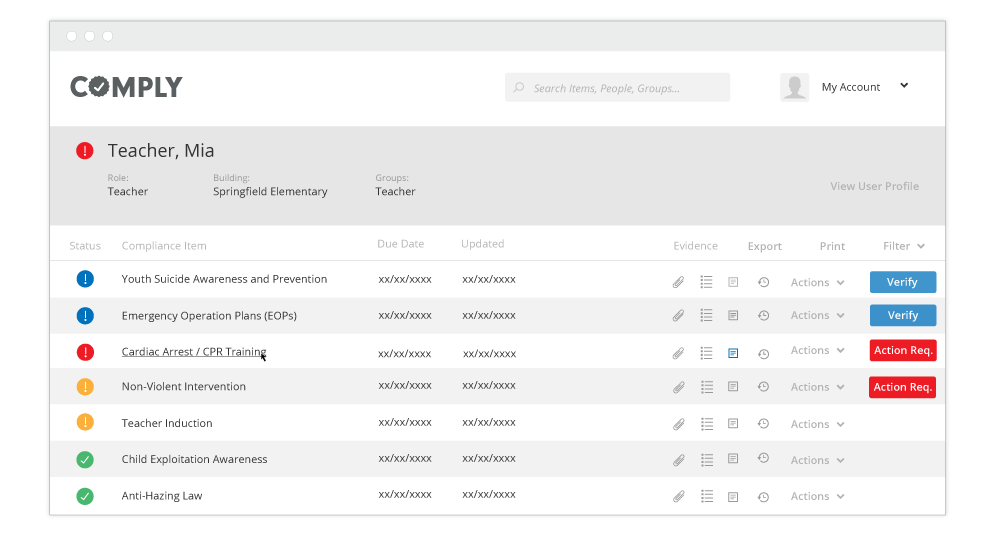 Any administrator can build a compliance item:
Add all necessary instructions
Provide important links and resources
Upload needed forms, pdfs, and documents
Establish deadlines
Identify contact person
Establish verification process (employee only, employee and administrator, administrator only)
Create questionnaires or post completion surveys
Assign compliance item to appropriate personnel
Set recurring cycles for compliance items
Set recurring cycles for individual users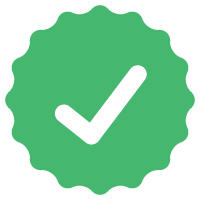 Get Comply for your District
Administrators: Contact us for demo and pricing using the form below or call us
at 412-877-8077.


Comply News & Updates
The latest Comply news, updates, and announcements.